Young Muslim Women Summit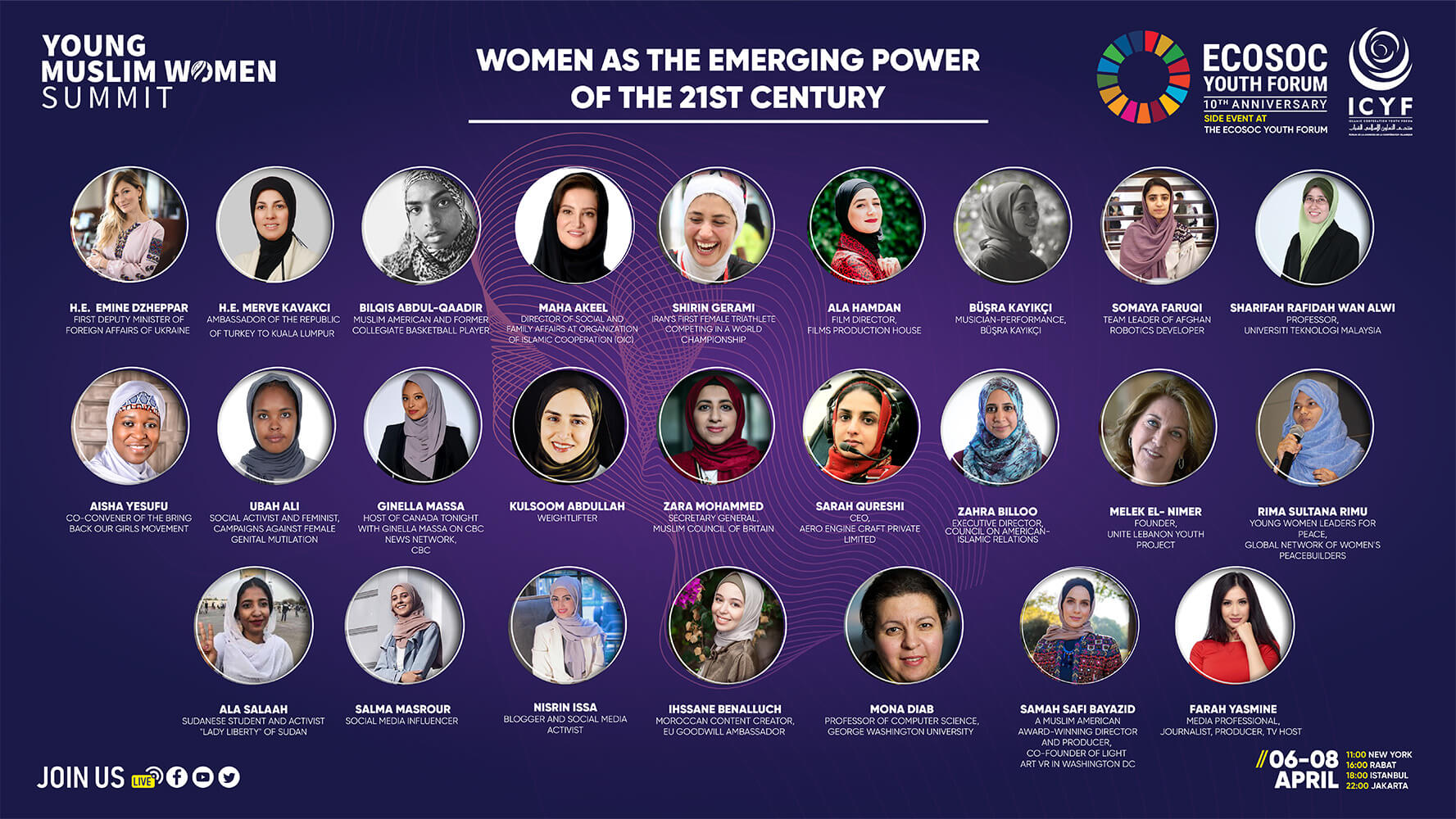 BACKGROUND
ICYF builds the capacity of OIC youth through relevant strategies, policy frameworks, programs and projects furthering their holistic education, capacity-building, civic engagement, and best practices, thus addressing the critical problems of unemployment, health and wellness, limited opportunities, social exclusion and extremism while building their intellectual ad leadership capabilities, scientific and technological innovation, entrepreneurship, media, and communication informed by a shared Islamic heritage, culture, and universal values.
In order to comply with ICYF's mission of capacity building of youth and their civic engagement, and to better serve and respond effectively to the needs, problems and complex challenges of Muslim young women, resulting from the Post Covid-19. This initiative is made for young Muslim women to network through online community platforms and to interact with Muslim female role models. "The 2021 ICYF Young Muslim Women Virtual Summit: Women as the Emerging Power of the 21st Century" will enrich discussion and interaction among successful Muslim women of different cultural backgrounds to take part in glocal actions and solutions for their socio-economic problems and challenges. The initiative is set to ensure relevance, engagement, inclusion, through consultation with Muslim female youth as well as key stakeholders.
Successful young women leaders will come together for a more diverse future, through keynotes from international speakers, breakout sessions, sharing good practices and networking.
VISION
Engineering new codes of success for Young Muslim Women across sectors and cultures.
PROGRAM DESCRIPTION
This online platform will generate an online community of mentorship and coaching of young females and will contribute to their empowerment and capacity building while helping them understand and realize the current issues of the 21st century. Through this platform, young role models will exchange their experiences, inspire, and guide, encourages positive interactions, provide peer support for underprivileged and vulnerable groups (refugees, asylum seekers, migrants, survivors of gender-based violence) as well as youth in under-developed countries..
GOALS
Engage Muslim young females around the world with role models to further enrich effective interaction and engagement on current and future issues whilst responding to the arising needs and problems resulting from the Post Covid-19.

Support young women's entrepreneurial innovation and leadership.

Echo the voices of community role models on broader global scene.

Promote female youth's participating in decision-making roles.

Understanding the major transformational trends in Post-COVID-19 era

Highlight the stories of success stories of young women to develop their personal, inter-personal and career development.
MAIN TOPICS
Female leadership in highly competitive world in Post Covid era

The sky is the limit: New Opportunities and prospects for young Female scientists

Power of young women in media industry

Influencers as a Drivers of Female Empowerment

Female Activism and Participation: Challenges and Successful Examples

Young Female Athletes
CONTENT CURATION & PRODUCTION WITH FEMALE ROLE MODELS
This project will operate using the internet as medium, bringing together influencers, celebrities and experts. These figures will make the content more appealing to the demography and will spark interest among the youth, driving attention towards the project making the message reach as many people as possible.

Youths will be able to submit questions, suggestions and provide input.

Content provided or submitted by users will be moderated and checked for eligibility.

before being published.

For every session, an approved public figure will collaborate in presenting the session with the ICYF team and the moderator.
FORMAT
The project will act as a summit which includes sessions that allow and accommodate two-way communication between important public figures and the youth, inform the youth about initiatives and opportunities online, educate, entertain and disseminate beneficial information through the use of multimedia and digital media content that will be produced in collaboration with influencers, celebrities, academics, innovators, and experts. The project will be tailored for digital media consumers and will be very useful in connecting with the young demography without them having to leave the comfort of their homes.

The summit will continue for 3 days via ICYF's social media channels and women across different sectors i.e., politics, civil society, arts, medicine, law, academia, sports; will be meeting with youth through different sessions.

The summit will be on for 3 days, 8 sessions, 25 speakers with 30 minutes of intervention and 30 minutes of audience interaction.

The summit will be initiated for 2021 for the first time and will be structured over a main theme. Speakers will be selected in accordance with the proposed themes.

Digital participation certificates will be awarded to participants.
PLATFORM TO BE USED AND REGISTRATION LINK
The event will be conducted online via Zoom Platform in meeting format. This format will allow speakers to join with Video. Participants will be able to attend the event and engage with speakers.
Registration Links for the event
– For the side event at the Ecosoc Youth Forum: https://icyforum.zoom.us/webinar/register/WN_QG690_vyTKCTcZvzgK4bXQ