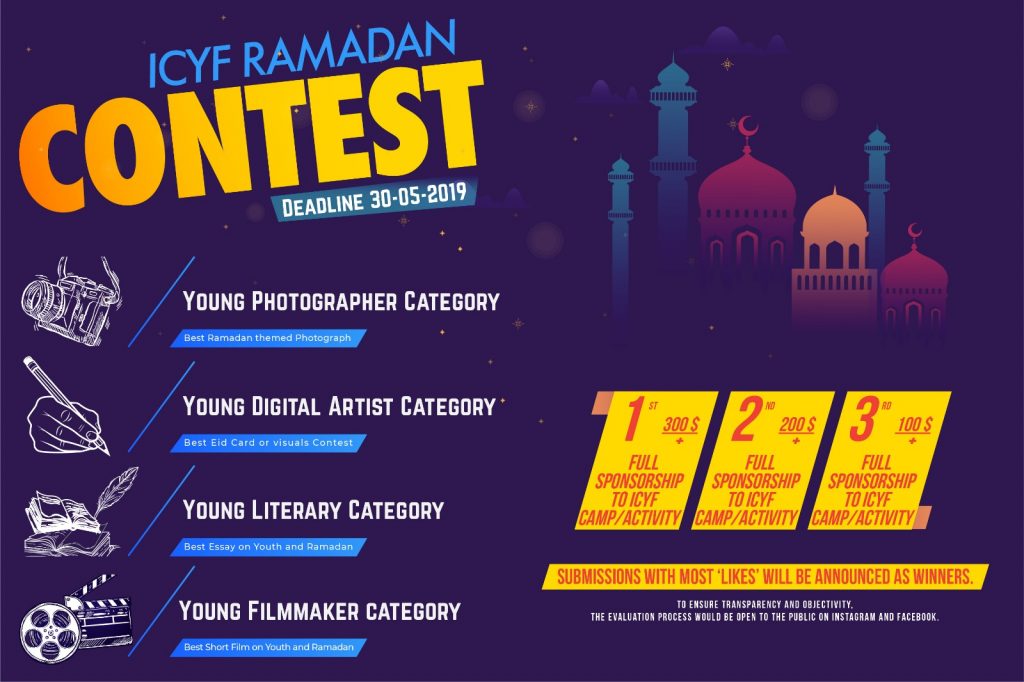 The Islamic Cooperation Youth Forum (ICYF) is proud to announce it's first annual ICYF Ramadan Contest. As part of ICYF's aim to provide budding artists with opportunities to grow and succeed, ICYF warmly invites All Muslim creative youth from all over the world to partake in the upcoming #ICYFRamadanContest. Winners will be awarded cash prizes as well as full sponsorships to participate in ICYF's 2019 camps and activities.
Contest Categories
Young Photographer Category: Best Ramadan themed Photograph
Young Digital Artist Category: Best Eid Card or Visuals Contest
Young Literary Category: Best Essay on Youth and Ramadan
Young Filmmaker Category: Best Short Film on Youth and Ramadan
General terms and conditions:
Works which meet the following conditions may be selected for publication on ICYF Social media for open valuation of the public:
Adherence/Appropriateness to the Theme of Ramadan and its spiritual and social atmosphere and traditions

High definition and clarity

Color, Lighting, Exposure and Focus

Message

Originality and creativity of expression

Photo composition

Quality of execution
Technical Requirements for Works:
The photo; JPEG, tif, 75-100sm, pixel mn 72 dpi, original photo (Photoshop/effect are not allowed)

The film's running time: short films with running time up to 60 seconds are welcome: max 1 min Mp4, H264.

Best essay on youth in Ramadan; A 600 to 1000 word essay in (Arabic, French or English).

Most Creative Youthful Digital Eid Cards; Digital, jpeg, tif, pdf, psd 1080×1080 Op ×02 1080
Category Awards:
Winners:
1st place: $300  – Honorary Diploma – Full Sponsorship to ICYF Camp/Activity
2nd Place: $200 – Honorary Diploma – Full Sponsorship to ICYF Camp/Activity
3rd Place: $100  – Honorary Diploma – Full Sponsorship to ICYF Camp/Activity
CONTEST POLICY & ELIGIBILITY
Ramadan Contest is open to Muslim Youth from all over the world of the ages between 18-30.

Participation is open to the public and free of charge.

Submitted works to the contest are not allowed to be retrieved.

ICYF secretariat shall make final decisions with regards to all cases, including those not set according to the current format, or insignificances resulted from its content as well as making changes in some of them.

Completion of the participation application form means the participants' acceptance of all of the contest regulations.

The process of sending films to the secretariat is one-staged.

The works are not allowed to be changed, modified or re-sent again.

Short films produced by more than one director require that one single individual represent the group.

Name of the photographer, agency, or publication, or other related information shall remain anonymous.

Works that have won in any other national or international competitions would be disqualified.

– Works must be submitted together with brief description/background; including the site, city, municipality and province, the circumstances surrounding the capturing of the photo or video.

The applicants for contest participation should fill out a registration form. Completion of the form means that the participant is the owner of the picture. If the case where there should be any legal claim against it, he/she will bear the full legal responsibility. ICYF carries no responsibility for the rights regarding the ownership of pictures/videos.
LIMITATION OF LIABILITY
The ICYF assumes no responsibility for any error, omission, interruption, deletion, defect, or delay in operation or transmission; communications line failure; theft or destruction of or unauthorized access to the contest entries or entry forms; or alteration of entries or entry forms. 
Submission: Starting from 08-30 May 2019
Announcing of Winners: First Day of Eid Al-Fitr 2019
Important Note: To ensure transparency and objectivity, the evaluation process would be open to the public on ICYF Instagram and Facebook. Submissions with most 'likes' will be announced as winners; Successful works will be published.

ICYF RAMAZAN YARIŞMASI
İslam İşbirliği Gençlik Forumu (İİGF)  Ramazan Yarışmasını gururla sunar.Genç sanatçıların kendilerini geliştirerek topluma kazandırılmasını hedefleyen İİGF, bütün Müslüman gençliğini  #ICYFRamadanContest 'e katılmaya davet ediyor.  Kazananlara nakit ödül ve İİGF'nin 2019 kamplarına ve etkinliklerine katılmak için tam sponsorluk desteği verilecektir.
Gençlik ve Ramazan Yarışması Kategoriler:
Fotoğraf Yarışması: Ramazan Temalı Fotoğraf
Tasarım Yarışması: Dijital Ramazan Bayram Kartı
Edebiyat Yarışması: Ramazan Konulu Deneme
Kısa Film Yarışması: Ramazan Konulu Kısa Film
Genel Şartlar ve Koşullar:
Aşağıdaki koşulları sağlayan çalışmalar ICYF'in sosyal medya hesaplarında yayınlanmak üzere seçilecektir:
Ramazan temasına, manevi ve sosyal atmosferine ve geleneklerine bağlılık / uygunluk
Yüksek çözünürlülük ve netlik
Renk, Işık, Pozlama ve Odaklanma
Mesaj
İfade özgünlüğü ve orjinallik
Fotoğraf kompozisyonu
Çalışmalar için Teknik Gereklilikler:
Fotoğraf yarışması için; JPEG, tif, 75-100sm, piksel mn 72 dpi, orijinal fotoğraf (Photoshop ve efekt kullanılamaz)
Kısa film yarışması için süre: 60 saniyeye kadar olan kısa filmler kabul edilmektedir: maksimum 1 dak Mp4, H264.
"Ramazan Ayında Gençlik" konulu en iyi deneme için; 600-1000 kelimelik bir kompozisyon (Arapça, Fransızca veya İngilizce).
Özgün Dijital Bayram Kartları için; Dijital, jpep, tif, pdf, psd 1080 × 1080 Op × 02 1080
Ödüllerimiz:
Birinciye: $300 – Onur Diploması – Etkinliklerimizden birine tam sponsorluk desteği
İkinciye: $200 – Onur Diploması – Etkinliklerimizden birine tam sponsorluk desteği
Üçüncüye: $100 – Onur Diploması – Etkinliklerimizden birine tam sponsorluk desteği
YARIŞMA POLİTİKASI VE UYGUNLUK
Ramazan Yarışması, 18-30 yaş arasındaki tüm Müslüman gençlere açıktır.
Katılım halka açık ve ücretsizdir.
Yarışmaya gönderilen eserlerin geri alınmasına izin verilmez.
ICYF sekreteryası, mevcut formata göre ayarlanmamış olanlar veya içeriğinden kaynaklanan önemsizlikler de dahil olmak üzere, tüm davalarda nihai kararlar alır, bunlardan bazılarında değişiklik yapar.
Başvuru formunun doldurulması, katılımcıların tüm yarış düzenlemelerini kabul etmeleri anlamına gelir.
Sekretaryaya film gönderme süreci tek aşamalıdır.
Eserlerin tekrar değiştirilmesi, düzenlenmesi veya yeniden gönderilmesi yasaktır.
Birden fazla yönetmen tarafından üretilen kısa filmlerin, tek bir kişi adına temsil edilmesi gerekir.
Fotoğrafçının, ajansın veya yayının adı veya diğer ilgili bilgiler isimsiz kalacaktır.
Herhangi bir ulusal veya uluslararası yarışmada kazanan eserleri gönderenler diskalifiye edilir.
Eserler kısa bir açıklama / arka planla birlikte gönderilmelidir; şehir, ilçe ve konum, fotoğraf veya video çekmeyi çevreleyen koşullar dahil.
Yarışmaya katılım için başvuranların kayıt formunu doldurmaları gerekir. Formun doldurulması, katılımcının fotoğrafın sahibi olduğu anlamına gelir. Buna karşı herhangi bir yasal hak talebinde bulunulması durumunda, tüm yasal sorumluluğu üstlenir. ICYF, fotoğrafların / videoların mülkiyeti ile ilgili haklardan sorumlu değildir.
SORUMLULUĞUN SINIRLANDIRILMASI
ICYF, başvuru veya gönderim sırasında herhangi bir hata, ihmal, kesinti, silinme, kusur veya gecikme için sorumluluk kabul etmez; iletişim bozukluğu; yarışma girişlerine veya giriş formlarına izinsiz erişimin kesilmesi veya imha edilmesi; veya girişlerin veya giriş formlarının değiştirilmesi gibi.
Başvuru Tarihi: 09-30 Mayıs 2019
Kazananların Açıklanması: Ramazan Bayramı'nın İlk Günü
Önemli Not: Şeffaflık ve tarafsızlığı sağlamak adına değerlendirme süreci ICYF Instagram ve Facebook hesaplarında herkese açık olacaktır. En çok "beğeni" alan gönderiler kazanan olarak ilan edilecek; başarılı çalışmalar yayınlanacaktır.