State of Youth in OIC Member States Report 2017
This report, which has been prepared by SESRIC in cooperation with ICYF-DC as mandated by the Third Session of the Islamic Conference of Youth and Sports Ministers, held in Istanbul in October 2016, underlines that performance and ability of youth to act as agents of cultural and economic sustainability will largely depend on how well policymakers today can address ongoing and upcoming challenges. In this regard, the report examines and evaluates the challenges faced by youth in various areas such as economy, policy, education, health and culture as well as suggesting actionable insights for policy makers. In other words, the Report not only identifies the key challenges faced by youth but also provides broad policy solutions on youth related issues to be considered by policy makers in OIC Member States.
Finally, the report develops and presents a Youth Policy Score Indicator for OIC Countries to evaluate how well Member States are dealing with issues related to youth and what can and should be done. This indicator can serve as a practical tool that would help promote intra-OIC cooperation with its end goal being empowerment of youth in each Member State.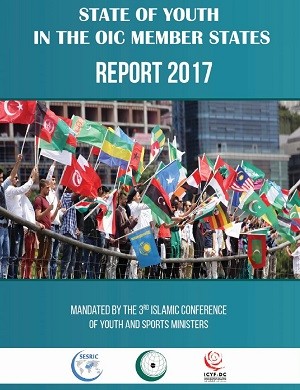 The report was circulated during the Fourth Session of the Islamic Conference of Youth and Sports Ministers (ICYSM) that took place on 17-19 April 2018, in Baku, Republic of Azerbaijan.
Online Electronic Version