Call for Applications: Youth council of Foreign Ministers of the OIC – Virtual Summit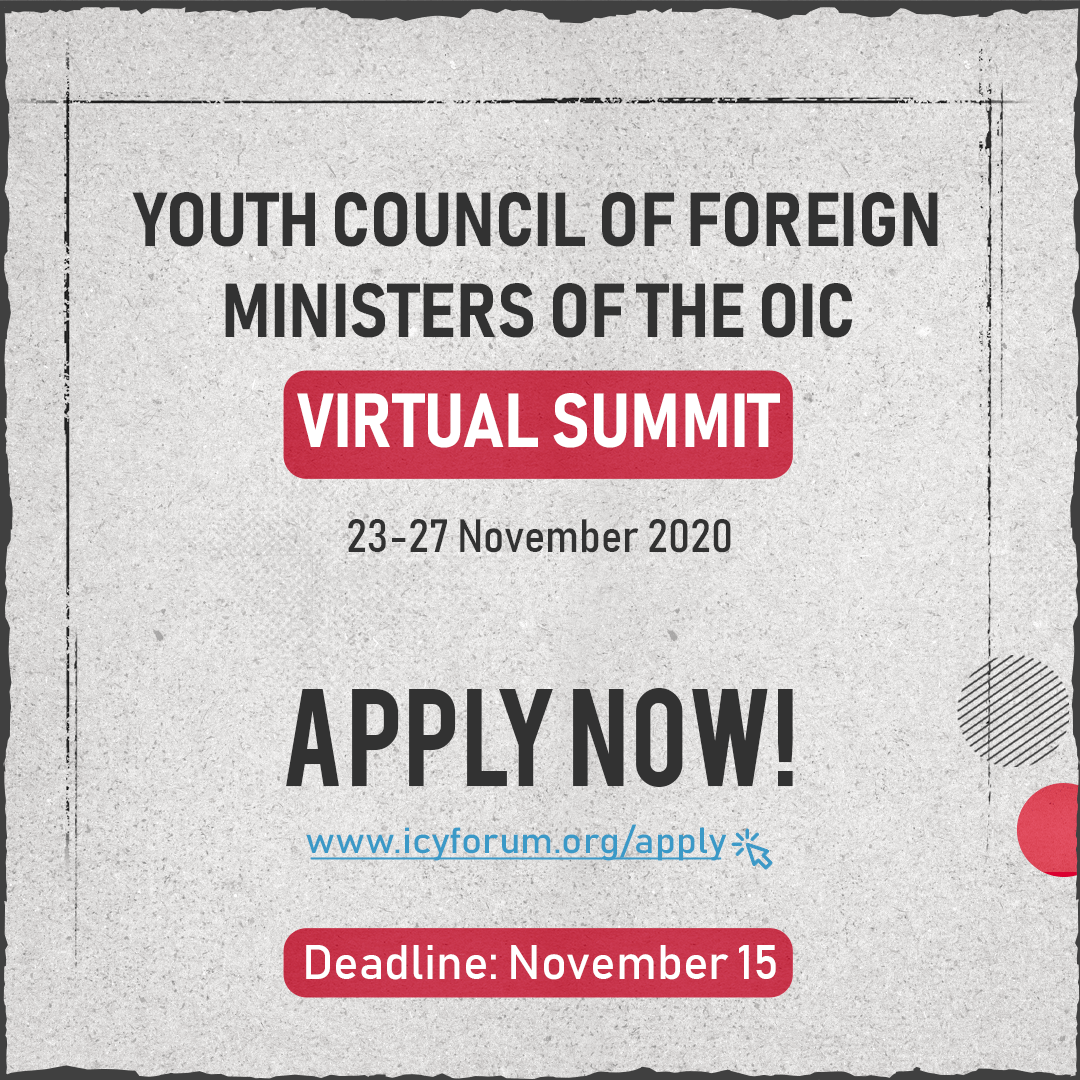 Big event is coming up, join the future leaders of the world, reserve your spot, apply now!
ICYF is inviting you to join the Youth Council of Foreign Ministers of the OIC – Virtual Summit to discuss the pressing matters affecting our world and issues related to diplomacy, international relations, and the ongoing pandemic. Experts will join in the discussions to share their views and we can't wait to have you in our midst. This program is a learning and life-changing experience that will engage brilliant minds from all walks of life in discussions that will shape our future, we would not want you to miss it.
The Islamic Cooperation Youth Forum (ICYF) an international organization affiliated to the Organization of Islamic Cooperation (OIC), organizing the Virtual Youth Council of Foreign Ministers of OIC to be held on 26-27 November 2020 in Zoom platform as an official side line event of 47th Session of the Council of Foreign Ministers of Organization of Islamic Cooperation (OIC).
The event under reference aims to enhance intellectual capacities of young generation while raising awareness and promote the OIC as a leading international institution throughout the young man and women of its Member States. Additionally, youth leaders are to discuss pressing issues related to international diplomacy, foreign affairs and Covid-19 and its global effects while engaging in practice of diplomacy during 2-day simulation of OIC.
Introductive panel sessions on committee and agendas will be discussed by experts on planned schedule and it will be open to the public. The first Introductive Session will be held on 23rd of November 2020. The necessary details and the speaker will be announced soon. Please stay tuned!
COMMITTEE:
47th Session of the Council of Foreign Ministers (The Agenda of the CFM will be announce in upcoming days)
PANEL SCHEDULE
23 November 2020 – 1st Panel Discussion
24 November 2020 – 2nd Panel Discussion
25 November 2020 – 3rd Panel Discussion

26 November 2020 – Simulation Sessions of CFM

27 November 2021 – Simulation Sessions of CFM