ICYF Ramadan Contest: Traditions & Customs In The Holy Month of Ramadan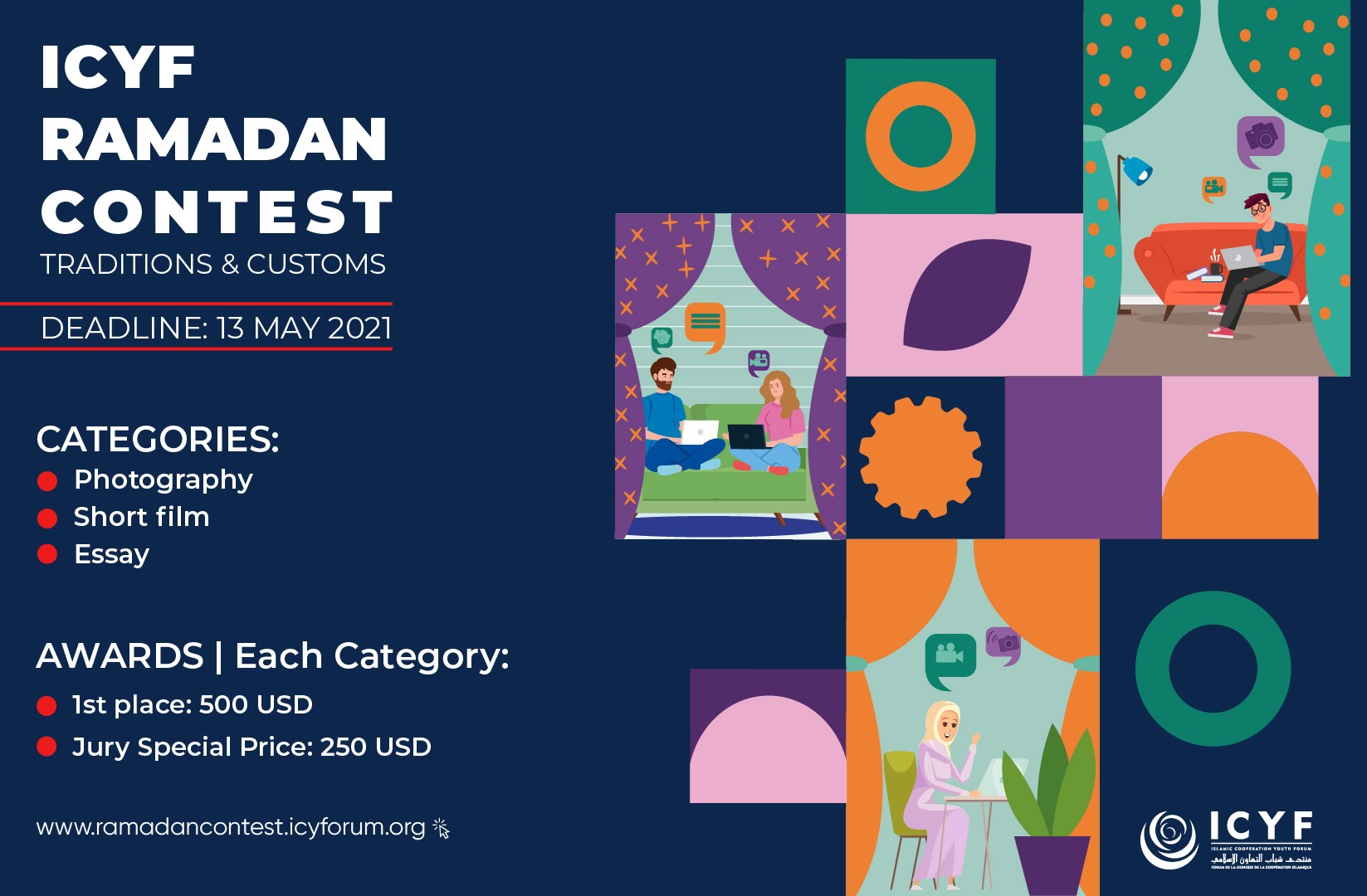 ICYF Ramadan Contest
"Traditions & Customs In The Holy Month of Ramadan"
Islamic Cooperation Youth Forum (ICYF), an international organization affiliated with the Organization of Islamic Cooperation (OIC), calls for submissions for the ICYF RAMADAN CONTEST.
The holy month of Ramadan is upon us once again and although this year's holy month will be a slightly different due to the ongoing pandemic, we hope to fulfil our duty to the creator of the heavens and the earth, Allah (SWT) by fasting and doing more good in this holy month. Although the pandemic has made it impossible to enjoy most of our traditional Islamic Ramadan customs like breaking our fast with our friends and families and performing Taraweeh together with our communities at our local masajid,  we would like to remind you that these difficult times shall come to pass and we will continue to work hand in glove with the Muslim youth.
Our 2021 ICYF Ramadan Contest is giving the youth yet another good thing to look forward to as we are providing a platform for the youth to show their local customs and traditions in the blessed month of Ramadan. We are calling upon the youth to express their Ramadan customs and traditions in text, video, and photo formats in an effort to bring us together at a time when we are disconnected in the physical world. Our motive is to promote our cultures and customs through multimedia during Ramadan within the frameworks of the beautiful religion of Islam. We want you to show us how you spend your time in Ramadan in your community, what you do in preparation for fasting each day and or what you do differently in this holy month within your locality.
Categories
The contest will be held in three categories. Participants can apply one or all categories at the same time. Read the terms of participation on how to apply multiple categories. 
Categories of contest
1- Best Picture or Illustration capturing traditions, customs, or activities during Ramadan (preferably unique to the culture or community).
2- Best Essay on one of the following topics:
Traditions, customs, or activities, still practiced in Ramadan, inherited from Islamic heritage. 

How can Ramadan and Islamic Fasting practices help encounter Covid 19.
With all this new global restrictions and limitation on our daily routines due to Covid 19; How this can affect Ramadan 2021 traditions and/or activities.
3- Most Creative Short Films that promote culture, customs, traditions, and activities during Ramadan 2021 Experience. (preferably unique to the culture or community).
How to Apply?
Applications will be made online at www. ramadancontest.icyforum.org (for full explanation about the application, please refer to the site). Since the competition will be held according to the online application system, no alternative submissions (e mail, mail, cargo, courier, hand delivery etc.) will be accepted.
Important Timeline
Participants may enter a Submission between April 13 and May 13, 2021.

Any Submission entered following the deadline will not be considered for

Deadline: 23:59 (GMT+3), May 13, 2021 

Announcement of Winners: May 20, 2021