CALL FOR APPLICATIONS "ONLINE MEDIA TRAINING"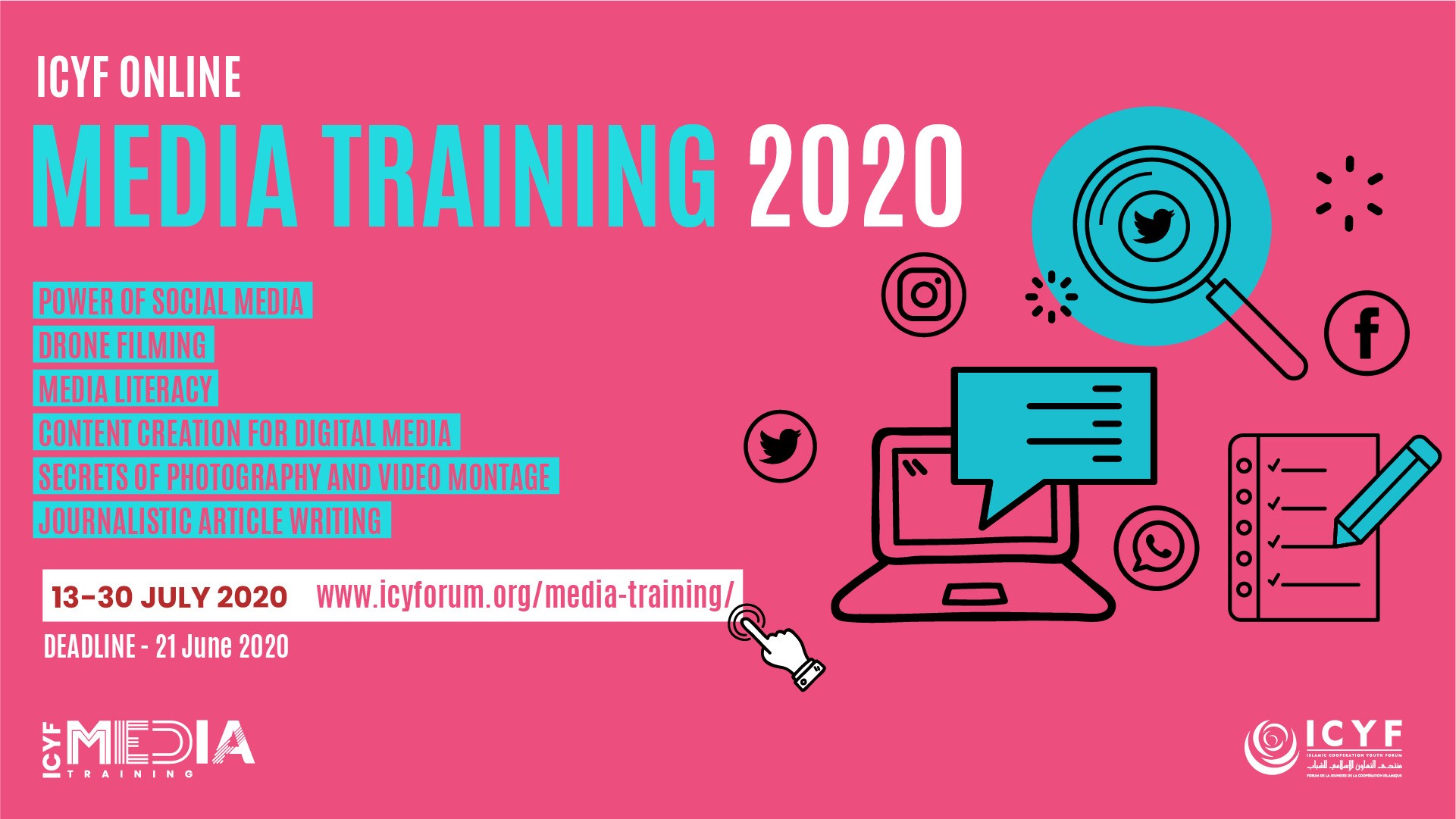 The Islamic Cooperation Youth Forum (ICYF) proudly announces its flagship programme "Online Media Training" to equip young people by developing contents-stories in a powerful way for being the voice of their communities.
OBJECTIVES
Empowering youth participation in media;

Identifying the possible media work directions and strategies reflecting participants' social realities;

Enhancing young journalists to understand and evaluate the reliability of journalistic craft (e.g. non-biased reporting, usage of proper sources);

Promoting youth media participation in diverse communities.
PROGRAMME ELEMENTS
Media – Digital Literacy

Power of Social Media

Digital Campaigns

Youth and Media Culture

Journalism in Crisis Management

Effective Social Media Content Introduction and Presentation

Secrets of Photography and Video Montage

Content Creation for Digital Media

Journalistic Article Writing

Drone Filming

How Newsroom Operates

Arts and Culture representation in Media

Introduction to Data Journalism

Digital Visual Storytelling
TRAINING FORMAT AND TIMELINE
***The online platform and its technical information pack will be shared only with the selected participants.
CERTIFICATE
WHO CAN APPLY?
Citizen of an OIC Member State or representative of a Muslim community in a non-OIC Member State

Ability to communicate in English

Aged between 18–35

Strong Media background (study, work experience or interest)

Involved in/or have coordinated media related project

Commitment to attend the full course of the Online Media Training
SELECTION
Selection Committee will evaluate the applications based on eligibility and criteria if the committee decides for further information can set online interview as the last stage of selection.
Selected participants will receive an email confirmation containing online program details. Due to a tight schedule, there will be not an opportunity to inform those who are not selected. The general information on selection results will be posted at ICYF website and social media accounts
Important Note: Only selected participants will be informed.
DEADLINE FOR APPLICATION: 21 June 2020 at 23:50 (GMT+3, ISTANBUL TIME)
ANNOUNCEMENT OF SELECTION:  26 June 2020
For more questions
Email: mediacamp@icyforum.org