International Volunteers Forum of Islamic Countries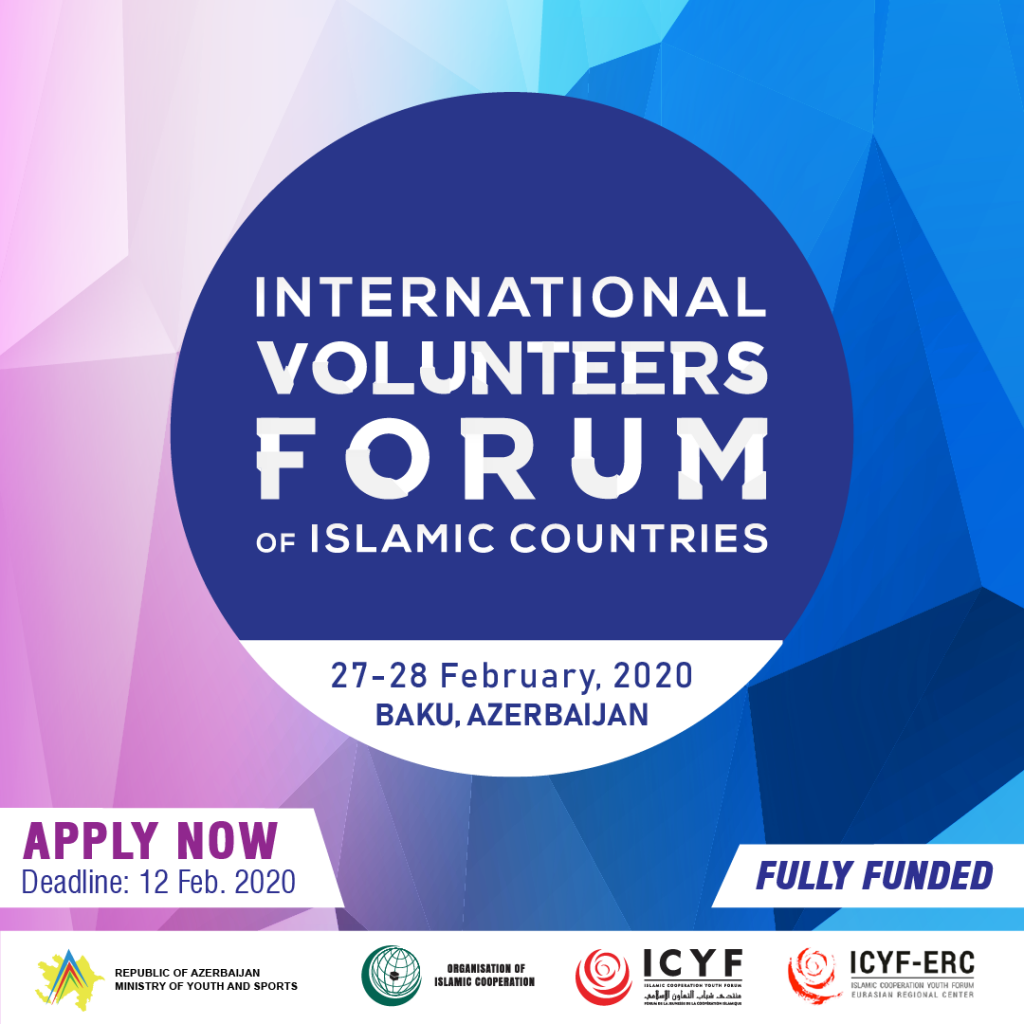 International Volunteers Forum of Islamic Countries
Date and place: February 27 – 28 February, 2020, Baku.
Forum organizers:
In connection with the announcement of 2020 as the "Year of Volunteers" in Azerbaijan, the Ministry of Youth and Sport of the Republic of Azerbaijan in partnership with the Organization of İslamic Cooperation General Secretariat (OİC GS) and the Islamic Cooperation Youth Forum (ICYF), will organize the International Youth Forum of Volunteers.                                
Objectives of the forum:
Format of the forum:
The forum will be in format of plenary thematic discussions and presentations of successful projects.
Forum days:
February 26 – Arrival day;
February 27-28 – Forum days;
February 29 – Departure day.
Participants of the Forum: 
2 young people aged 16 to 30 years who have direct experience in the volunteer movement will be invited from each OIC Member States. The forum participants can be as follows;
–  Representatives of governmental bodies which responsible for implementing youth policy,     
–  Youth NGOs' representatives;
–  Young leaders, professionals, volunteers and experts
Forum working language: English
The terms of participation:
Those who wish to participate in the forum will be required to submit online application form. The Organizing Committee of Ministry of Youth and Sports of Azerbaijan and Islamic Cooperation Youth Forum and ICYF Eurasian Regional Center will evaluate applications until February 12, 2020. Applications sent after this date are not subject to review.
The main criteria of selecting participants, will be focused on past experiences in volunteerism and motivation.
The plane ticket, accommodation and meals will be covered by the Host Country.
Official invitations will be provided by the Ministry of Youth and Sports of the Republic of Azerbaijan for the visa arrangements of selected participants.
Only selected participants will be informed!
Contact details:
Contact Person: Ms. Hilal Öztürk
Email: mediacamp@icyforum.org
cc: heydaraghayev05@gmail.com